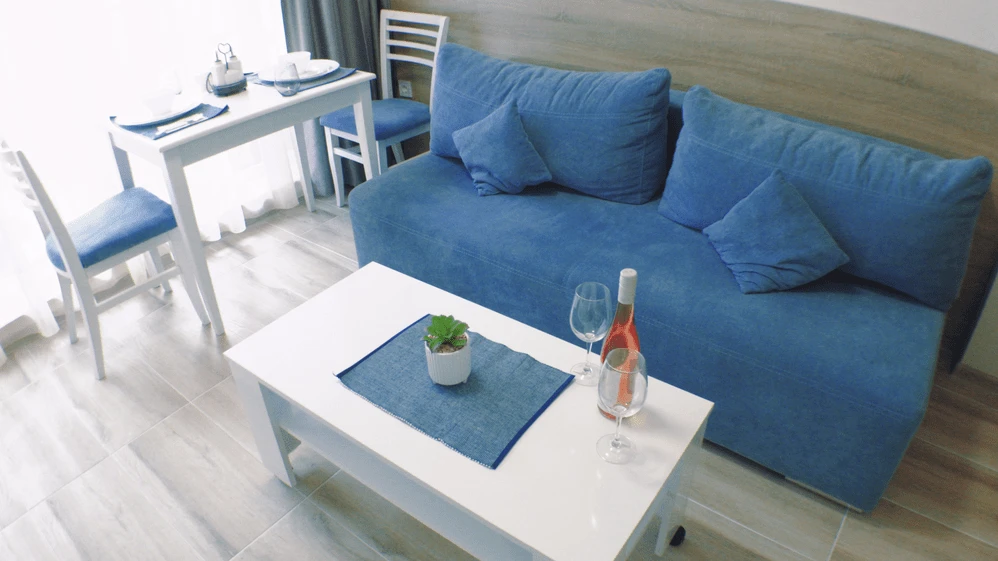 /** * @var $module \Ucraft\Module */ ?>
Papaya complex combines functional apartments with the amenities

of a hotel and the comfort of your own home!

Overnight stays for tourists, students and business trips!
An ideal solution for corporate and business accommodation!
Papaya Complex provides the opportunity to live surrounded by peace, tranquility, beauty and luxury!
The tenants point out the advantages of the neighborhood such as orderliness, tranquility, good transport links. The complex itself is located in the yard of the Technical University. It is a particularly suitable place for students studying medicine, as the University Hospital "St. Marina "is in the immediate vicinity. This makes the complex an extremely preferred place both by the student community and by the residents and guests of Varna.
A wonderful opportunity for short-term accommodation with an underground parking space for all visitors to Hospital "Saint Marina", Eye Clinic "Saint Petka", Technical University of Varna, Medical University of Varna.
We are so close to the city center, and at the same time we feel as if we are in another world and another time! A world of peace, quiet, beauty and comfort! A world of quality and luxury!
All apartments are extremely functional and comfortable, fully furnished with custom furniture, with large "French" type windows with German 7-chamber PVC windows KBE 88 with triple glazing Saint Gobain with optimal glass thickness. The huge windows are designed to take full advantage of the sun's rays and provide plenty of light and heat, providing excellent energy efficiency for each apartment.
The complex is located near:
Sport center " Akademika Sport" in the complex
Medico dental center "Glory" in the complex
University multidisciplinary hospital for active treatment  " Saint Marina"
bank offices
mobile operators
bus stops , taxi
fruits and vegetables markets
park
sports grounds
football, basketball and volleyball courts, as well as a bike lane
pharmacy
emergency center
Location, unique with convenience and easy access
Technical university                         0,100 км.
Second corps of University of Economics Varna                                                   1,300 км.
Eye clinic " Saint Petka"                  0,027 км.
Military hospital – Varna                 0,700 км.
University multidisciplinary hospital for active treatment  " Saint Marina" 0,062 км
Post office №10                                 1 км.
Stadium Varna                                  1,100 км.
Hypermarket "LIDL"                         0,100 км.
Hypermarket "Kaufland"                 1,500 kм
Sea garden                                         3 км.
Palace of Culture and Sport          2,300 км.
 Center                                                2,500 км.
Primary school " Chernorizets Hraber"                                                                          0,600 км.
Seventh secondary School " Naiden Gerov"                                                                   1,400 км.
First language high school              1,500 км
Kindergarten "Nightingale"             0,750 км
Varna Dolphinarium                          3 км.
Varna bus station                               4,600 км.
Varna airport                                      11,500 км
We offer you one of the most optimal and good options, both from an aesthetic and practical point of view.